Sanatoga Ridge and Buchert Ridge Senior Living Communities Are "The Best Value for your Money"
If you are in the market for an independent senior living community, it couldn't be a better time. Sanatoga Ridge Community and its sister community, Buchert Ridge Community, have lowered their prices —  for a limited time only. To demonstrate what a good deal these prices are Sanatoga Ridge is hosting an Open House, Saturday, October 12, from 10 a.m. to 1 p.m. Located at 2461 High Street, Pottstown, PA 19464, it's probably closer than you thought. Visit this beautiful, tranquil community and see for yourself.
Buchert Ridge is holding its Open House, Saturday, October 19, from 10 a.m. to 1 p.m. Buchert Ridge is located at 2011 Buchert Road Pottstown, PA 19464. Come see why people are calling this a charming and friendly community.
Well-designed communities like Sanatoga Ridge and Buchert Ridge address both the needs and desires of older, active adults. For a low-monthly maintenance fee, landscaping, lawn mowing,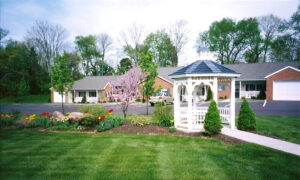 snow removal and gutter cleaning are no longer your responsibility.
Additionally, the maintenance fee includes: taxes, insurance, appliances (repair and/or replacement), sewer, trash/recycling removal and all mechanical and functional maintenance that's
associated with homeownership. Need something as simple as changing the battery in your smoke detectors or a light bulb in a light fixture, the maintenance team will take care of it. Now you,
your children and grandchildren can enjoy the things you like to do together while visiting.
"We pride ourselves on having a friendly, approachable staff," said John McMenamin, executive director.
Link and Nancy D.
Sanatoga Ridge Community residents Link and Nancy D. explained why they moved to Sanatoga Ridge like this, "Sanatoga Ridge gives you the best value for your money."
They explained their search process. "After Googling 20, 55+ communities and driving through 10, we narrowed our list down to five. After visiting those communities, we chose Sanatoga Ridge!" said Link.
"Not only is it close to family, doctors, shopping, and entertainment, it also takes away the headaches of homeownership – and the numbers just make sense," explained Nancy.
Amenities
A warm, welcoming community, Sanatoga Ridge has a well-appointed Community Center providing many opportunities for residents to socialize. Activities include: cards, sewing and book clubs; movie nights, morning yoga, a choral group; a computer and social media discussion group, and more.
During the warmer month's residents enjoy working in a communal garden and taking advantage of all the areas to walk around and enjoy the grounds. There are also outdoor activities like bean bag toss, bocce ball and muckers.
There are trips, entertainment such as singers and comedians, and information sessions. It is no wonder Sanatoga Ridge won the Pottstown Mercury's 55+ Community Readers' Choice Award.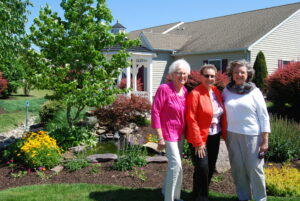 Buchert Ridge has a quaint Community Center, perfect for community parties (like Halloween and Holiday parties), surrounded by a lovely garden and fountains. It also has an exercise room with equipment suited for seniors. Just like Sanatoga Ridge, Buchert Ridge is conducive for walking and bike riding. Because Buchert is a sister community to Sanatoga, residents can take full advantage of any activities or bus trips that Sanatoga has to offer.
Could Sanatoga Ridge be the place for you?  Join us at an Open House, Saturday, October 12, 10 a.m. to 1 p.m. Tour our apartments and cottages. Register online at www.SanatogaRidge.com/ohs  Where every day's a Saturday.
Or maybe it's Buchert Ridge? Come see for yourself at our Open House, Saturday, October 19, 10 a.m. to 1 p.m. Tour the neighborhood and visit our sample cottage. Register online at www.BuchertRidge.com/ohb. Buchert Ridge, Where neighbors feel like family